The 3 Sportscars Built in North America
Much globalization has happened throughout the auto industry, including American companies producing abroad and companies from abroad producing in North America. From a sportscar perspective, production in North America is much skinnier than the variety produced across Europe—specifically Italy (Ferarri, Lamborghini, Pagani) and Germany (Porsche, Mercedes)—but that doesn't mean American made sportscars don't pack a punch. American-made sportscars have just as much horsepower, and engineering excellence, but maybe missing a bit of brand panache.
Chevrolet Corvette Stingray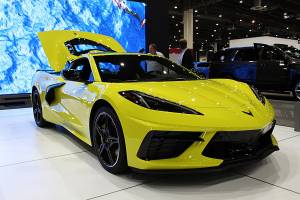 MSRP: 59,990
Engine: 6.2 L V8
Horsepower: 490
Torque: 470 lb-ft
Curb Weight: 3,366
MPG: 19 combined
0-60: 2.9 seconds
There's no denying the early success of the next generation Corvette Stingray. Its new mid-engine design, a staggering 490 horsepower, and a low starting price of under $60,000 make it the one to beat. Built in Bowling Green, Kentucky, this car ranks as the 8th most American vehicle on cars.com American-made vehicle index. Dealers continue to struggle to meet demand and with over 15,000 units already sold this year (Q1 & Q2 2021), there's no end in sight for the number of enthusiasts who want this exciting vehicle in their garage.
Acura NSX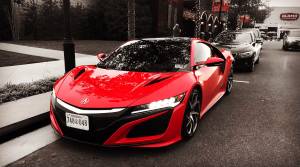 MSRP: $157,500
Engine: 3.5 L V6
Horsepower: 573 hp
Torque: 475 lb-ft
Curb weight: 3,878 lbs
MPG: 21 city / 22 highway
0-60: 2.7 Seconds
The second-generation Acura NSX came to market in 2016 with a hybrid electric powertrain, making it a fierce competitor to the BMW i8. It's the only vehicle on the list not produced by an American automaker. Built in Marysville, Ohio, production peaked in 2017 when over 600 were built. At the end of its journey in 2022, the last year will be a special Type S performance model with plans to produce just 350 units.
Ford GT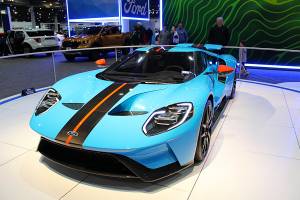 MSRP: From $500,000
Engine: 3.5L V6
Horsepower: 647 hp
Torque: 550 lb-ft
Curb weight: 3,381 lbs
MPG: 14 city / 18 highway
0-60: 3 Seconds
The only Canadian-built vehicle on the list is the Ford GT. With production based in Markham, Ontario, the brand touts its engineering excellence with its carbon fiber and aluminum structure. Impressive horsepower comes from a surprising V6, making it fast and (kind of) efficient. Production amounts rival the Acura NSX more closely than the Stingray, making this vehicle a fast future collectible.
Bonus: Tesla Model S Plaid
Some love and some hate, but the Tesla Model S has more than earned its position as a sedan on this sportscar list. With the fastest ever 0-60 time of 1.99 seconds, the buzz around this vehicle is much deserved. Still built in Fremont, CA, the Model S originally came to market a decade ago meaning many original concerns about performance have been engineered out. Ranking as the #3 most American vehicle, Tesla's flagship continues to be competitive from nearly every perspective.
Ready to take a sportscar home? Woodside Credit is ready to put you behind the wheel of the exotic or supercar of your dreams. Whether it has borrowed the heart of another or is bumper to bumper pure, we have the best terms and payments in the industry. Contact us to find out how we can help you put that sweet sportscar in your garage.