The Porsche 911 is of the most iconic sportscars from the past decades, and today it remains an icon for its legendary performance, brand name, and artful driving dynamics. As one of our most popular vehicles to finance, Woodside Credit has spent much quality time understanding the nuances of each version and generation of this iconic vehicle. The 911 continues to climb in value at a rate higher than most other classics and exotics—many model years have crept into the 6, even 7 figure range. Here are our picks for the best Porsche 911s of all time (with estimated payments included).
1973 Porsche Carrera RS
$5,579/month
The '73 Carrera RS was Porsche's first time making an even better 'S' version of the 911. Focused on engineering a lighter, more powerful, better-balanced version of the original made this Porsche even more competitive at the time. Today the extremely rare RS fetches some impressive figures and is beloved by some of the wealthiest people in the world.
Sale Price $800,000. Monthly payment of $5,579 based on a loan amount of $640,395, 20% down, and 6.51% APR financing for 180 months.
1976 Porsche 911 Turbo (930)
$771/month
This is the first year of the 911 Turbos. With race-series being 'production-based,' it was important for Porsche to market this vehicle to consumers to meet homologation regulations. Therefore, upon its introduction, the model built upon the Carrera RS's success and was the fastest production vehicle available in Germany. With 256 horsepower, a revised suspension, larger brakes, and a more robust gearbox, the 930 was an enthusiasts' dream. However, with quick specs, the vehicle was also a bit demanding to drive, and due to the rear engine layout, it was prone to oversteer.
Sale Price $75,000. Monthly payment of $771 based on a loan amount of $67,895, 10% down, and 6.54% APR financing for 120 months.
1991 Porsche RS 3.8 (964)
$5,666/month
In 1989 Porsche entered a more modern age with the '91 version of the 911 and kept much of its racing heritage. With New styling revisions, integrated bumpers, auto transmissions, and all-wheel drive options, the model expanded the purpose of the 911, and the RS version remained the racing-focused version. The RS 3.8 was over 200 pounds lighter and had a more aggressive engine, making it the meanest Porsche to purchase at the time. Forty-five units were sold in the US under the "Carrera Cup US Edition."
Sale Price $1,300,000. Monthly payment of $5,666 based on a loan amount of $650,395, 50% down, and 6.51% APR financing for 180 months.
1995 Porsche 911 Turbo GT2
$4,795/month
With only 57 examples produced, the 911 GT2 was yet another impressive improvement over the previous generations. With an air-cooled engine making 430 horsepower via a six-speed manual transmission, this was the fastest model to date. Featuring weight savings items like the pull strap door handles, this vehicle prioritized performance and speed.
Sale Price $1,100,000. Monthly payment of $4,795 based on a loan amount of $550,395, 50% down, and 6.51% APR financing for 180 months.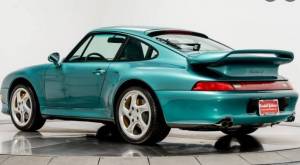 1997 Porsche Turbo S (993)
$1,781/month
Every part was designed from the ground up, and a mere 20% of its parts were carried over from previous generations. More importantly, it makes the very last year of the twin-turbo air-cooled engines. Porsche took the opportunity to make significant-tech and visual advances, including a new wishbone suspension that gave previous models oversteer. The Turbo S was manufactured by the Porsche Exclusive department. A power upgrade of 450 horsepower and many extras, including carbon fiber inserts in the interior, gave this vehicle impressive performance.
Sale Price $255,000. Monthly payment of $1,781 based on a loan amount of $204,395, 20% down, and 6.53% APR financing for 180 months.
2011 Porsche GT3 RS 4.0
$2,338/month
Often called the ultimate RS, this collector vehicle was one of the last times Porsche used the legendary Mezger flat-six--a 500 horsepower naturally aspirated engine. Limited to 600 units, it was the leading track version and kept various weight-saving options that Porsche pioneered throughout the years. With most examples initially selling above $200,000, the value of these cars continues to climb, with some models selling for $750,000.
Sale Price $255,000. Monthly payment of $2,338 based on a loan amount of $268,395, 20% down, and 6.52% APR financing for 180 months.
2019 Porsche GT2 RS
$3,836/month
Take everything Porsche learned about racing and performance in the past decades and narrow it down to one vehicle—here you have the GT2 RS. Blowing away auto enthusiasts and writers upon its entry in 2019, the GT2 RS became a favorite with its blistering speed, sensational steering, massive grip, and ultimate poise. It's officially the fastest 911 with a 0-60 of 2.7 seconds, and its 700 horsepower is nearly 3x as powerful as the originals.
Sale Price $550,000. Monthly payment of $3,836 based on a loan amount of $440,395, 20% down, and 6.51% APR financing for 180 months.
With nearly 60 years of the 911, it's no surprise the nameplate wins over more and more fans (and customers) every year. So which ones are your favorite? Let us know if there's any we missed. Are you looking to take a 911 home? Let our quick quote help you determine the Woodside Low Monthly payment.